Back To Search
World Record Dinner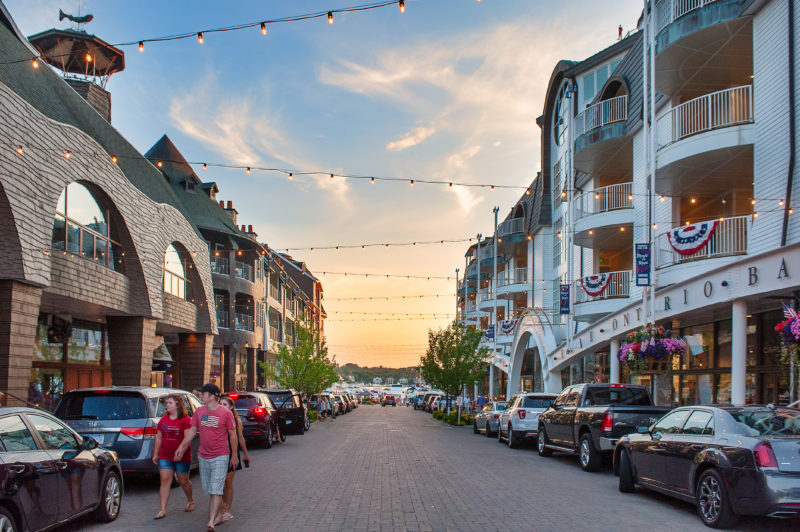 Thursday, August 30, 2018
6:00 pm - 8:00 pm Community Dinner

(Expired)
Main Street
Bay Harbor, MI
Cost: Children under 12 Free; Adults $35
A world record attempt!
The Bay Harbor Foundation is hosting a farm-to-table Community Dinner, which will take place on Main Street in Bay Harbor on August 30th, 2018.
In 2009, the Foundation created a record with a World Record for the World's Largest Parade of Electric Vehicles.  We are once again working to create a new record for the Longest Five Course Farm-to-Table Community Dinner.  Guests will enjoy a candlelit dinner on linen-covered tables decorated with sunflowers that will be placed on 300 feet of Main Street in the Village at Bay Harbor.
Guests will be served a delicious farm-to-table five-course dinner, plus a welcome tasting.  This meal will showcase meats and vegetable sources from local farms, and a chef introduction will accompany each course.  All of our Bay Harbor restaurants and chefs will be contributing to this event, along with many of our local wineries.
We welcome guests from throughout the Little Traverse Bay Region to join in this World Record attempt in support the immediate health and human service needs in our community, and at the same time have fun with this win/win event.
Help the Bay Harbor Foundation break a world record!
PLEASE JOIN US AT THE BAY HARBOR COMMUNITY DINNER
WORLD RECORD ATTEMPT OF THE 
Largest Gathering of People Breaking Bread
GREAT FUN
Be a part of a World Record for the Largest Gathering of People Breaking Bread at
this fun, family-friendly event!
GREAT FOOD
Enjoy a four-course dinner featuring fresh,
locally grown food from area farms and businesses.
GREAT CAUSE
All proceeds benefit these organizations
serving local children in need.
SCHEDULE OF EVENTS
August 30th, 2018
6:00 PM
Dinner and World Record Attempt
Main Street in the Village at Bay Harbor
7:30 PM
Celebration Tent
Live Music and Dancing to Celebrate a New World Record Bay Harbor Village Marina Lawn
MENU
~Salad~
Farm Fresh Locally Grown Garden Salad
~ Main Course ~
Summer Barbecue Ribs and Chicken
with Roasted Potatoes and Com on the Cob
~Dessert~
Brownies and Chocolate Strawberries
RSVP by August 24, 2018
Sign up early for best seating!
For Reservations
Please call 231.439.2700 or mail the reservation form to:
Bay Harbor Foundation, 750 Bay Harbor Drive, Bay Harbor, MI 49770
RSVP form for Community Dinner
For more information go to the Bay Harbor Foundation website.
Farm Partner Profiles
Bear Creek Organic Farm
Anne and Brian Bates dream of a sustainable future, where the arts, education, and organically grown food enrich their community. Bear Creek Organic Farm is Petoskey, Michigan's first-ever 100% USDA Certified Organic Farm. They were named 2017 Entrepreneur of the Year by the Petoskey Regional Chamber of Commerce and are located at 4012 Atkins Road, Petoskey.
Bill's Farm Market
The McMaster family has operated what is now Bill's Farm Market for over 100 years. Over 20 varieties of flowers, 10 kinds of herbs, and a variety of vegetables are continually rotated through 29 fields. The farm is famous for their peaches-and-cream sweet corn and is located at 4450 East Mitchell Road, Petoskey.
Bolt's Farm Market
Bolt's Farm Market is located between Ellsworth and Atwood. Russ Bolt, who has been farming his 200 acres since 1985, offers fresh seasonal produce and flowers, as well as home-raised beef cattle. His products may be found in local stores, as well as at their roadside market, which is located at 9339 Atwood Road, Ellsworth.
Coveyou Scenic Farm Market
Initially established as a homestead under President Grant in 1874, Coveyou Scenic Farm Market has transitioned from dairy and livestock to their current production of organic produce. Owner David Coveyou is proud to use geothermal and solar energy to reduce their environmental impact. The farm offers local artisan creations, specialty foods, flowers, and soil, and is located at 4160 US 131 South, Petoskey.
Crooked Tree Breadworks
Greg Carpenter, artisanal baker and founder of Crooked Tree Breadworks, has a commitment to using only first-rate ingredients and to eliminate shortcuts for flavor that comes naturally. His traditional and time-intensive approach has earned him recognition from Bread Baker's Guild of America and Traverse magazine. The bakery is located at Clock Tower Plaza, 2264 M-119, Suite #5, Petoskey.
Johan's Bakery
Famous for donuts, coffee cakes, bread, bagels, cakes, and cookies, everything is baked fresh daily at Johan's Bakery. The bakery's primary location is 565 W Mitchell St., Petoskey but also has locations in Harbor Springs, Charlevoix, Walloon, Burger Express, and Johan's Bagel on M-119.
Open Sky Farm
Originally a 40-acre fallow hay field near Cross Village, Open Sky Farm became certified organic in 2015. The owners enjoy growing unusual and great-tasting varieties, and they believe that the best quality produce is the result of good soil. The farm offers a variety of CSA options and is located at 5200 Zmikly Road, Pellston.
Providence Organic Farm
Andrea and Ryan Romeyn have owned and operated the Providence Organic Farm since 1996. Their family is passionate about living soil, thriving plants, and healthy people. The farm offers organic produce, pastured meats, recipes, and CSA shares and is located at 5691 North M-88, Central Lake.
Spirit of Walloon Market Garden
Nestled alongside west shore of Walloon Lake, Spirit of Walloon Market Garden offers sustainably-produced vegetables, cut flowers, strawberries, and herbs. Farm Manager Rachel Cross has a degree in horticulture and strives to create farm systems that prioritize community health and crop diversity. The farm is located at 06255 Zenith Heights Road, Boyne City.